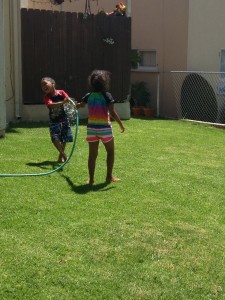 Today is the official start of summer! I think this is every kid's favorite season. It might be my favorite too. Last year I had them in a free summer camp that their school offered. The hours were from 12-6 pm  (they only had to attend 3/5 days) and I liked that much better than the now 8am 2pm (5/5 days). It felt just like school trying to get everyone dressed, fed, snacks and lunches packed… . I decided to pull them out after a few days. 12 months ago I would probably have kept them in, but it is amazing how much maturing has transpired this past year. I am enjoying having them home ALL day:).
I have decided to make it a fun free for all, well sorta. I purchased each child their own thick curriculum book. It's one of those fun all in one compilation workbooks. I got them one for their upcoming grade, one from Costco the other Target. While at Target I hit up the dollar section and grabbed a handful of thin workbooks that cover history, animals… they help students dissect the process of researching, processing and recording info.
We keep these books in the car so it doesn't feel like school "sitting down" to work. They do a few sheets a day of language and math. At home I left out math flashcards and art supplies. That way they can pick them up and I remember to use them. They test each other with the flash cards-maybe Ethan will know his times tables too by summer's end.They have already had a couple sleep overs. I figure now is the time to soak it all in.
Tomorrow is my wedding anniversary, when we got married in 2002 it was the first day of summer- thus the longest day of the year. Having the Summer Solstice in Malibu was a special treat that year. Patrick is planning for us to get massages tomorrow. We can both use it, we have both been a little stressed. Our short sale home we are in escrow in is taking forever- the occupants want to stay and are getting lots of extensions. I'm not good with waiting, I know this is a test!
Wait passionately for God, don't leave the path Psalms 13:34