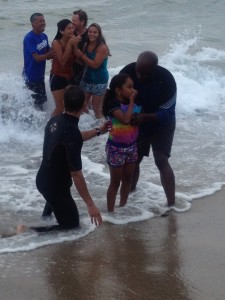 Tatianna has a phenomenal spirit. Never once have a heard one corrective comment about her. Since her birth she has had "the light". I have known about 2 or 3 other people in my life with this gift. They just emanate God's love and they are the kind of people you want to be around because you feel like you can experience that kind of goodness by proximity. Tia's has a love for Jesus beyond her years and is very introspective.
Knowing she was turning eight this year, I decided Patrick and I could sit down with her and walk her thought the tenants of her faith and invite her to officially become a Christian. The number "8" symbolizes new beginnings and I knew she was ready for this step. The week before her birthday she came to me with a treasure. She had created a large-scale compilation using construction paper of spiritual thoughts she had for HER children. Tia's message was addressed to her future children and explained what she believes about her faith. It included an explanation of salvation, kindness and showcased every Bible verse she knew or found around the house. She kept coming and leaving again adding to it  when she thought of something. She flung open the door to our pending discussion so I seized the opportunity and Patrick and I had the privilege of walking her through the Sinner's prayer.
The Bible teaches that baptism is in effect an "announcement" of the relationship you now have with Christ. As a new believer we planned to have Tia baptized at the next available opportunity. That was last Sunday in the ocean at Manhattan Beach. Tia prepared her own testimony, shared it with the large crowd and was submerged in the Pacific, we passed mini marshmallows as favors with the verse "Wash Me and I Shall be Whiter than Snow"-Psalm 51:7.
It was a glorious experience! I immediately welled up with tears when she re-emerged. My heart is full with gratefulness for her preciousness and delight for her beautiful heart. I'm so happy both sets of grandparents, our dear friends and family were there to witness this transformative event.