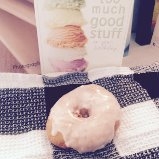 So I had no idea to today was National Donut Day when I decided to make some homemade.
SO AMAZING!!!
Here is the recipe
INGREDIENTS
GLAZE:
I used the package of Chai Tea frosting included in this Chai Tea cupcake mix from Archer Farms at Target
http://www.target.com/p/archer-farms-chai-latte-cupcake-mix-22-86oz/-/A-14772576
BATTER:
1.5 quarts of vegetable oil, for frying (that's  a full standard bottle)
1 cup milk
1 large egg
2 cups all-purpose flour
2 Tablespoons sugar
4 1/2 teaspoons baking powder
1/2 teaspoon salt
1/4 cup (1/2 stick) unsalted butter, melted
Add the vegetable oil to a large, heavy-bottomed pot. (There should be at least 2 inches of oil in the pot and at least 2 inches between the top of the oil and the top of the pot.) Attach the deep-fry thermometer to the pot and begin heating the oil over medium heat to 350ºF. Line a slotted pan with foil or wax paper underneath.
In a small bowl, whisk together the milk and the egg.
In a separate medium bowl, whisk together the flour, sugar, baking powder and salt. Stir the milk-egg mixture into the dry ingredients, then stir in the melted butter, mixing until a soft dough forms.
Scoop out batter onto a floured surface. I like to put on latex gloves at this point. Roll into ball, cut in half, then repeat cutting in halves until you have at least twelve sections. Take each section and form a donut shape. Use a round press like a measuring spoon and notch out a hole. Flatten a bit. Use flour as needed to reduce stickiness
Makes about 12-15 donuts.
If you don't have a thermometer drop a raw grain of rice in oil, if it floats up within 8 seconds, oil is hot enough, if it floats up in less than 8 or not at all, oil is  too cold, if it floats up within 1–4 seconds it is too hot.
Once the oil has reached 350ºF, use a slotted spoon to drop up to three donuts into the oil, careful not to overcrowd the pan.
Fry the donuts, they should  start to rise to the surface within 5 seconds, let them cook about 2 minutes until golden brown underneath, then flip them and let them cook another 2 minutes until they're golden brown on the other side.
Using a slotted spoon, transfer the donuts to a slotted pan.
Allow the donuts to cool slightly, then one by one, spread glaze over top with the back of a spoon. Serve immediately.